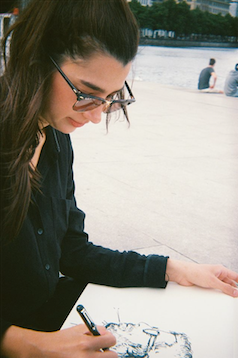 Lina Moreno
was born in Medellín, Colombia in 1990. She studied a BFA Visual Arts at the National University of Colombia and did parallel short studies in Graphic Design and Journalism. Combining her passion for art and storytelling, she came upon the comic branch and published her first comic book in 2014 called 'Meh', which is a compilation of shorts stories about boredom that has been acknowledged as one of the most representatives in 2014 by the MDE International Art Meeting In Medellin.
In 2015 she was awarded a DAAD Scholarship and therefore moved to Hamburg, Germany, where she's finishing her MFA Illustration at the University of Applied Sciences and developing her Final Project on Graphic Storytelling. 
She's been working for more than five years as an illustrator and photographer for clients like Penguin Random House, Ministry of Culture of Colombia, Prisa Ediciones in Spain, Hamburg University of Applied Sciences, a variety of German and Latin-American Magazines, among others.
Her work has been exhibited in Germany, Colombia, Italy, Egypt and featured in some international magazines, as well as been acknoweledge in some contests and reviews, like 'Best Portfolio at Behance Portfolio Reviews in Hamburg'.
If you like one of my projects or you think I'd be the right one for yours, don't hesitate to contact me!
Just drop me a line and I'll put myself in contact with you as soon as possible!
I'll be glad to read and answer to your mails in German, English or Spanish.