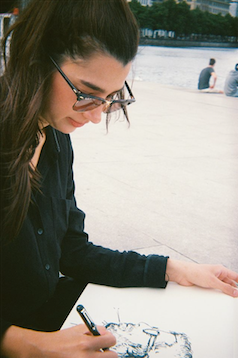 Lina Moreno

is an illustrator and designer born in Medellín, Colombia. 
After getting her

BFA Visual Arts

at the National University of Colombia, she was granted a DAAD Scholarship for Studying an 

MFA Illustration & Graphic Narrative

at the University of Applied Sciences in Hamburg, Germany.
Her passion for social sciences and her previous studies in Journalism profile her as an interdisciplinary artist and illustrator with big interest in sociocultural Projects. In 2016 she began her Project "Sketchup-drauf", a project in the subway of three cities (Paris, Berlin, Hamburg), depicting daily for over more than one-and-a-half years the diversity and daily urban life in transit places of these three metropoles. 
In 2017 she was granted an Artist's Scholarship by the

Claussen-Simon-Stiftung

in Hamburg, with which she continues this project and wants to create an organisation to bring drawing closer to others; where drawing is seen as a process, by which cognitive abilities are gained and social bridges built, instead of a mere result. 
She works as a freelance Illustrator since 2012 and has been into teaching and Workshop-giving on illustration, sketch and silkscreen, invited to different lands like Egypt, Mexico and Colombia. Her Artwork has been exhibited in diverse Lands of Europe, Africa and Latin-America.
If you like one of my projects or you think I'd be the right one for yours, don't hesitate to contact me!
Just drop me a line and I'll put myself in contact with you as soon as possible!
I'll be glad to read and answer to your mails in German, English, French or Spanish.