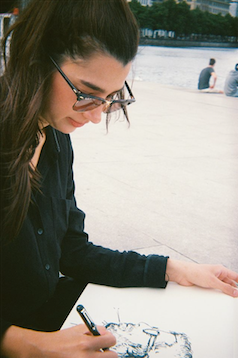 Lina Moreno

 was born in Medellín, Colombia. 
After having studied J

ournalism

and a

BA Visual Arts

, she moved to Germany, where she was granted a DAAD Scholarship for Studying an 

MA Design: Illustration & Graphic Narrative

at the University of Applied Sciences in Hamburg.
Her passion for social sciences profile her as an interdisciplinary artist and illustrator with big interest in sociocultural Projects. In 2016 she began her Project "Sketchup-drauf", which plays in the subway of three cities (Paris, Berlin, Hamburg), depicting daily life for over more than three years in sketchbooks.  
In 2017 she was granted an artist's scholarship with this Project by the

Claussen-Simon-Stiftung

in Hamburg, leading also a research about the cognitive process of drawing.
She works as a freelance Illustrator since 2012 and teaches Workshops on illustration, sketch, cognitive drawing and silkscreen. She's been invited to different lands like Egypt, Mexico and Colombia. Her Artwork has been exhibited in diverse Lands of Europe, Africa and Latin-America. 
Clients include:

Penguin Random House, Gestalten Verlag, Bundesland Thüringen Magazin, HAW Hamburg, Fischer und Appelt, Ministerio de Cultura de Colombia, Prisa Ediciones, Instituto de Cultura y Patrimonio de Antioquia, among others. 
She works currently as an Editor for Visual Design in the german news magazine SPIEGEL ONLINE.
If you like one of my projects or you think I'd be the right one for yours, don't hesitate to contact me! 
Just drop me a line and I'll put myself in contact with you as soon as possible!
I'll be glad to read and answer to your mails in

German, English, French or Spanish.